Dental bridges are a standard solution when a tooth or teeth are missing. A dental bridge is a set of teeth that spans the gap left in the mouth by a lost tooth, as the name correctly suggests. In a conventional dental bridge, a false tooth (sometimes called a "pontic") is joined on each side to a dental crown that is fastened to the neighboring teeth (referred to as an "abutment"). If no healthy tooth is present, it can also be attached to a dental implant. The pontic physically spans the area between the teeth and is kept firmly linked to the crowns on either side by a metal bridge. So, How many types of dental bridge materials, and why do you need a dental bridge? Continue reading this article to gather details for the answer.
Why Do I Need Dental Bridges?
Your dentist may have recommended a dental bridge as a treatment option if you have missing teeth, teeth that are severely damaged or cracked, or teeth that are not stable enough to support a dental crown on their own. By replacing the missing tooth with one that can match the appearance of the original, dental bridges help you regain the appearance of your smile. The dental operation can restore or preserve normal chewing, biting, and speaking as well as the proper form for your bite and the proper shape of your face, in addition to the aesthetic benefits brought about by dental bridges. By inserting an artificial tooth in the gap created by a lost tooth, you can prevent the neighboring teeth from shifting or migrating into the space left by the tooth, which could throw your entire bite out of alignment.
A cantilever bridge may be utilized in place of a conventional bridge if a tooth is lost in a site where teeth are not present on either side to serve as the bridge's abutments. Because there are no teeth on the other side of a cantilever bridge, the pontic is only fastened to an abutment on one side of the structure. This does not produce a bridge that is as secure, but it might be required if a bridge is required for a back molar for which there is no tooth positioned behind it.
Read more: Dental crown repair in Dentist For Life
When Do Dental Bridges Become Necessary?
The bridge dental method can be used to indicate tooth loss cases where the two neighboring teeth can support the force. It is important to keep in mind that the total bearing coefficient of the restored teeth must be lower than the total bearing coefficient of the teeth used as abutments. Additionally, the following are some limitations of this approach:
The bridge is unable to support the weight.
Inflammation in the dental area
Oral mucositis, ulcers
The tooth apex is not completely closed, and the pulp chamber is large.
Children who have not yet grown into adults
Intolerance to bridge material
What Are the Different Types of Dental Bridges?
Dental bridges are available in four basic varieties. Below, each of these is discussed in more detail, along with a section that explains how they differ from one another and the situations in which each type of dental bridge should be used.
Traditional dental bridges
Traditional bridges construct a filler tooth that is held in place by crowns that are placed over healthy teeth on each side of the gap in the mouth. The most frequent kind of bridge is one that is constructed of porcelain fused to metal or ceramic.
When there are healthy teeth on either side of the gap that can support a bridge between them, this type of bridge is utilized to replace lost teeth. Before the bridge can be put in place, both of these teeth must be modified and given crowns to make sure they are sturdy enough to support the bridge.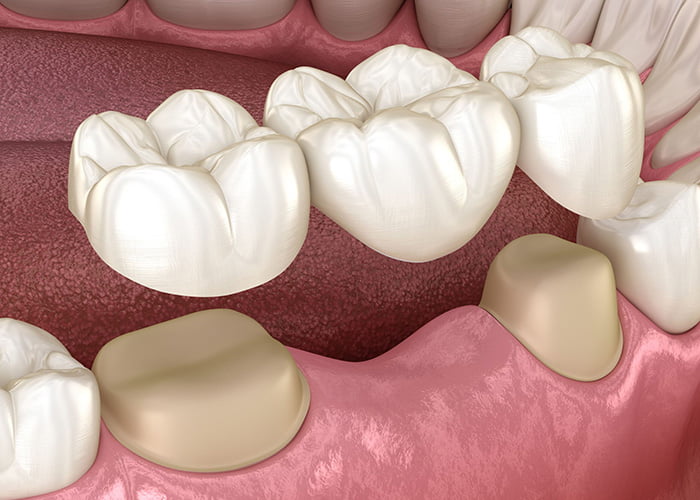 Cantilever bridges
When there are no teeth on the side of a missing tooth where the pontic may be fixed, a cantilever bridge can be used. Only one side of the bridge is supported by a healthy tooth and crown.
This is also recommended in some clinical settings where the lost teeth are surrounded by teeth on both sides. Again, there may be circumstances when it is not aesthetically pleasing to prepare teeth on both sides for a crown, such as when a front tooth is on one side of the missing tooth. If the missing tooth is the rear tooth, it can also be used. Additionally, a typical bridge may not be supported by the abutment if it is currently supporting another prosthetic repair.
The pontic of a cantilever bridge is intended to be placed externally to the abutment teeth. They required greater, off-axis forces to support the pontic and act on the abutment tooth. They must therefore be carefully placed in order to lessen the possibility of the abutment teeth become unstable.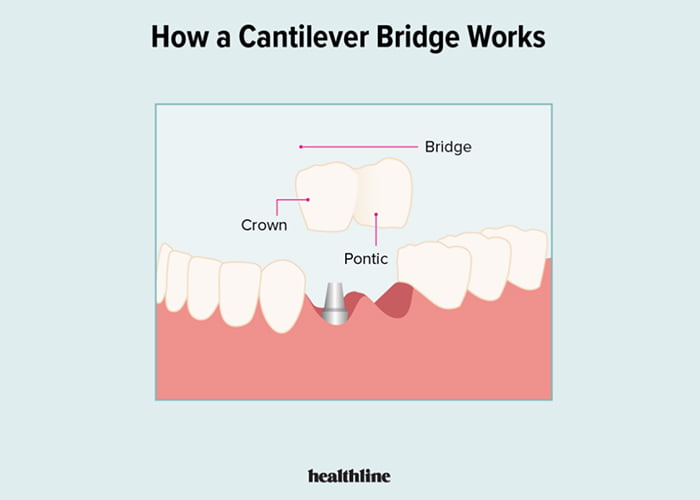 Maryland or resin-bonded bridges
Front teeth are frequently replaced with Maryland-bonded bridges, also called resin-bonded bridges. They have metal teeth with porcelain that has been bonded to it. With metal or porcelain wings on either side of the bridge, which are attached behind the neighboring healthy teeth, the pontic is secured to the surrounding healthy teeth.
Because it doesn't call for contouring and crowning the neighboring teeth, the Maryland bridge is a more conservative alternative to the conventional fixed bridge. The metal wings are instead positioned behind the abutment teeth.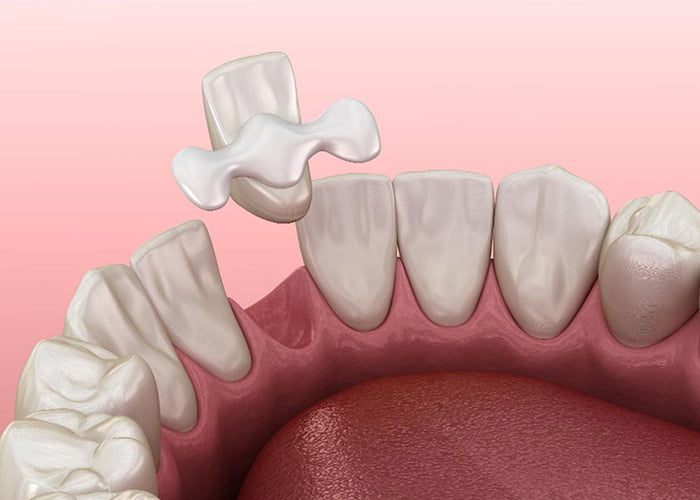 Implant-supported bridges
Dental bridges that are supported by dental implants have the same basic design as conventional bridges but are fixed in place differently. As a result, implant-supported bridges can fill huge spaces left by numerous missing teeth without the need for nearby teeth. Dental implants are renowned for their power, toughness, and capacity to reestablish normal function. The placement process and recovery time for this kind of dental bridge are more invasive.
See more: How To Avoid Dental Bridge Problems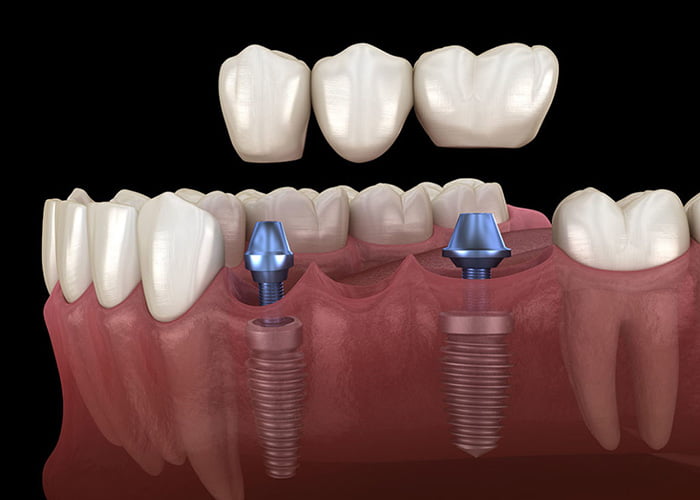 What Is the Procedure for Dental Bridges?
Dental bridges can normally be finished in two visits to the dentist. The abutment teeth are prepared during the initial appointment to receive a dental bridge. These teeth must be recontoured by having some enamel removed during preparation in order to make room for a crown to be set on top of them. The next step is to take impressions of the teeth, which will be used as a model by a dental lab to create the bridge, pontic, and crowns. While the bridge is being created, your dentist will create a temporary bridge for you to wear in order to cover the exposed teeth and gums.
Your temporary bridge will be taken out during the second visit, and the new porcelain or metal bridge will be examined and fitted properly as needed. It can take several visits to assess the metal framework's fit and bite. This depends on the circumstances of each individual. In order to make sure the dental bridge is fitting properly, your dentist may temporarily cement it in place for a few weeks if it is a fixed bridge. The bridge is fixed into place after a few weeks.
Book your FREE consultation now
Each type of dental bridge serves a certain function. They are all used to replace a missing tooth, but they each have unique qualities that make them better in various circumstances. If you have any questions about dental bridges or dental bridge types, book your free consultation from Dentisforlife now!