Are you experiencing the first signs of wisdom teeth coming in, discomfort or pain as your wisdom teeth eruption? Our guide provides you with everything you need to know about this common dental issue, from identifying the symptoms to understanding the treatment options available. Whether you're curious about the causes of wisdom teeth pain or want to know how to prepare for a wisdom teeth extraction procedure, our comprehensive guide has go you covered. Get the information you need to take care of your oral health during this important time.
Why Do We Have Wisdom Teeth?
Adults have three sets of molars, each with four teeth on the top, bottom, and both sides of the mouth.Wisdom teeth are the third and final set of molars that typically emerge in the late teenage years or early twenties. However, not everyone develops these teeth, and some people may only develop one or two instead of a full set of four.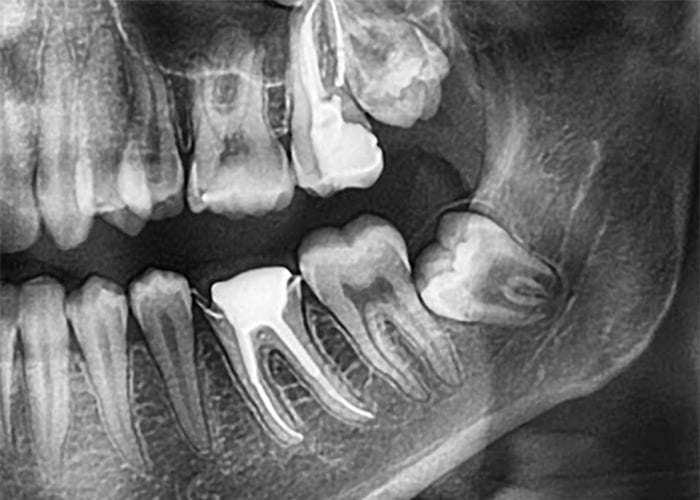 Wisdom teeth may have served an evolutionary purpose in our ancestors, as they were necessary to grind and chew tougher foods. However, as our diets changed, our jaws have become smaller, and wisdom teeth can cause problems such as overcrowding, infection, and decay, leading many dentists to recommend their removal.
What does it feel like to have your wisdom teeth come in?
The experience of having your wisdom teeth come in can vary from person to person. Some people may not experience any symptoms at all, while others may experience significant discomfort.
See more: Types of Teeth and their Functions
One of the first signs of wisdom teeth eruption is often a feeling of pressure or discomfort at the back of the mouth. This may be accompanied by swelling or tenderness in the gums. Some people may also experience pain or stiffness in the jaw, difficulty opening the mouth fully, or a slight fever.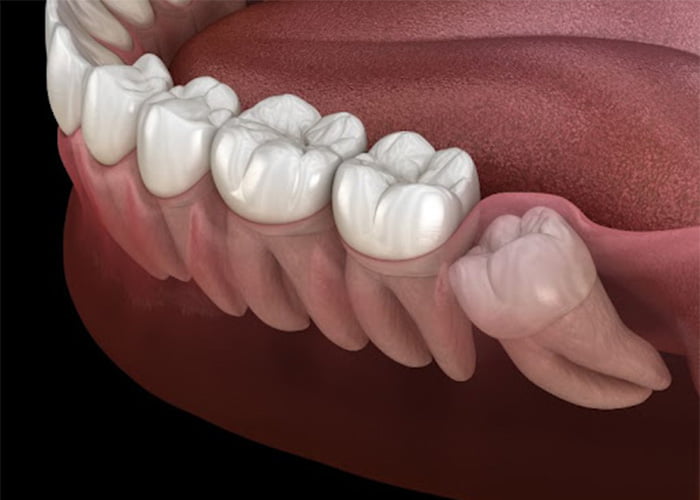 As the wisdom teeth continue to erupt, they may push against the surrounding teeth, causing discomfort and even shifting of the teeth. This can lead to crowding or misalignment, which may require orthodontic treatment to correct.
If the wisdom teeth become impacted, meaning they are unable to fully emerge from the gum line, they can cause more significant symptoms such as pain, infection, and even damage to nearby teeth or bone.
First Signs Your Wisdom Teeth Are Coming In
When your wisdom teeth begin to emerge, you may experience a range of symptoms that indicate their arrival.  
Tender and Swollen Gum Tissue
One of the first signs of wisdom teeth eruption is often tender and swollen gum tissue at the back of the mouth. This is caused by the pressure of the wisdom teeth pushing against the gums as they try to emerge.
Triggered Headaches
When a wisdom tooth is trapped under the gums, it can create pressure that may result in headaches. Detecting this symptom can be challenging, particularly for those who suffer from frequent headaches. Regular dental check-ups with an experienced dentist are essential to monitor your oral health and address any potential issues promptly. Don't hesitate to seek professional advice if you experience headaches or other symptoms related to wisdom teeth eruption.
Read more: Teeth whitening at-home remedies
Infection In The Gums
Wisdom teeth can be positioned awkwardly, leaving the surrounding gum tissue vulnerable to infections. If left untreated, this can lead to pericoronitis, a severe infection. It is important to seek dental advice at the earliest sign of discomfort or infection to prevent potential complications.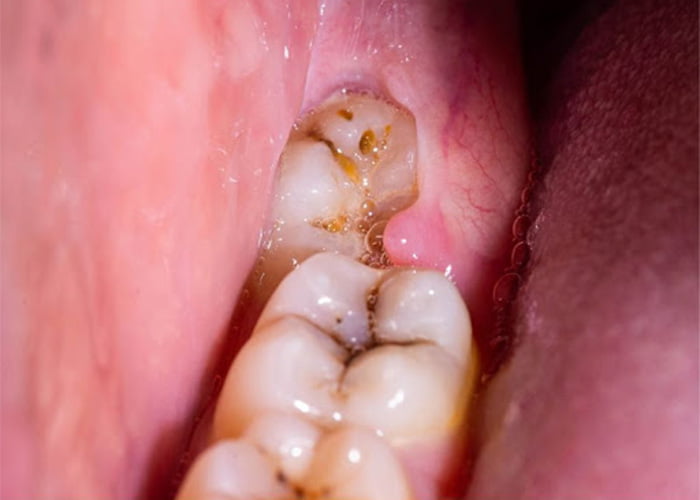 Why Wisdom Teeth Cause Pain
Wisdom teeth can cause pain and discomfort due to several reasons.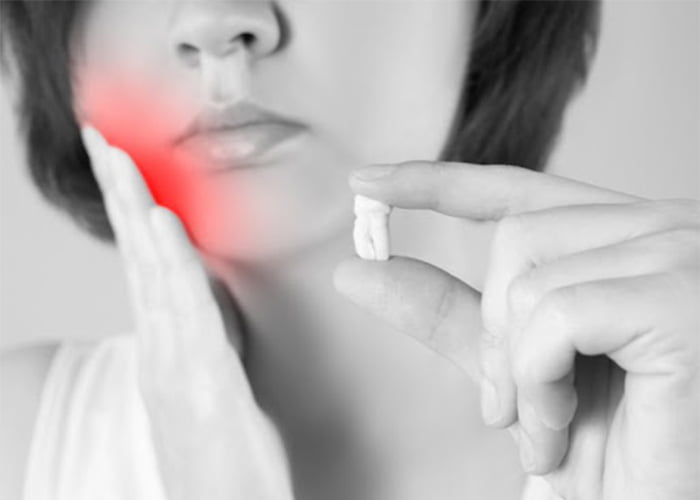 Impaction: Wisdom teeth can become impacted or partially erupted, causing pain and inflammation. Additionally, the angle of the wisdom teeth can also contribute to pain, as they may push against adjacent teeth, causing pain and discomfort.
Partial eruption: Infection is another potential cause of pain associated with wisdom teeth. When the wisdom teeth partially emerge or become impacted, it can create pockets where bacteria can thrive, leading to infection and inflammation in the surrounding tissue.
Tumours or cysts: An impacted wisdom tooth can lead to tumors or cysts, which can later lead to the destruction of other healthy teeth and the jawbone if not treated in a timely manner.  
What age do your wisdom teeth come in?
Wisdom teeth typically start to emerge between the ages of 17 and 25, but the exact timing can vary. Some people may have all four wisdom teeth by their early 20s, while others may never develop them. Regular check-ups and X-rays can monitor the development of wisdom teeth and provide guidance on the best course of action. If you experience any pain or discomfort in your mouth, it is important to consult with your dentist.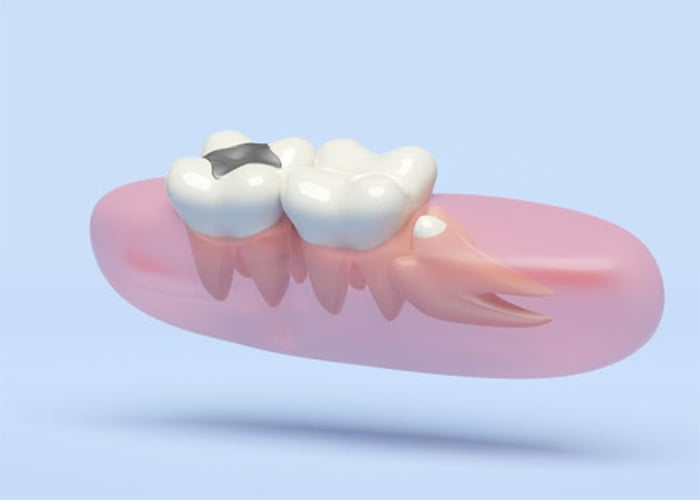 When Wisdom Teeth Need to be Removed
Wisdom teeth may need to be removed for a variety of reasons. 
One of the most common reasons is that there may not be enough space in the mouth for them to grow, leading to impaction or partial eruption. Which can cause pain and inflammation, leading to infection and inflammation.
Another reason wisdom teeth may need to be removed is if they grow in at an angle that is different from the other teeth, causing them to push against the adjacent teeth and creating discomfort or even damaging nearby teeth.
Wisdom teeth may also need to be removed if they have cavities or decay that cannot be treated with fillings or other interventions. These areas can be difficult to reach with a toothbrush or floss, making them more susceptible to decay.
In some cases, wisdom teeth may be removed as a preventive measure, even if they are not causing any immediate problems. This is often recommended for people with small jaws or limited space in their mouths, as it can prevent potential future problems.
Conclusion
In conclusion, wisdom teeth can cause pain and discomfort due to a variety of reasons, including impaction, misalignment, infection, and decay. It is important to consult with a dentist if you experience pain or discomfort related to your wisdom teeth. Regular dental check-ups and X-rays can help monitor the development of wisdom teeth and identify potential issues early on. With proper care, you can manage any discomfort and maintain optimal oral health.