Little titanium rods known as dental implants are surgically inserted into the jawbone to replicate the tooth's root. This implant will subsequently have a dental crown, or fake tooth, attached to it to create a seamless, long-lasting appearance. These implants will actually stimulate jawbone growth in addition to closing the gap in your grin, keeping you appearing young for years to come. You may say goodbye to oral adhesives and overnight soaking procedures thanks to the innovative and high-tech dental surgery known as dental implants. Consider dental implants from Dentist For Life if you're elderly and seeking a permanent smile that resembles your natural teeth in both appearances and feels.
Dental implants offer permanent replacement teeth that are ideal for seniors who want a natural look and feel to their smile. Let's discover the advantages of dental implants for seniors through this article.
Can Seniors Get Dental Implants?
The standard of living becomes more important as one approaches retirement age, and a brilliant grin can go a long way toward raising it. Dental implants help older persons live healthier and more active lives by enabling them to eat better, be socially active, and receive better nutrition.
Older people can benefit from dental implants and recover just as predictably as younger people, whether they are 80 or 90 years old. Although dental implants are the gold standard for replacing missing teeth, the majority of patients, especially the elderly, should obtain them.
As a result, dental implants have no such thing as old age. Dental implants can predictably and safely improve the quality of life for a reasonably healthy person with even a few years left to live.
The success rates of dental implants in people over the age of 80 compared to those under the age of 80 after five years, according to studies. According to this study, the success rates for the two groups were equal.
For the possibility of senior dental implants, dentists consider the following factors:
Drugs for generalized disease
Oral Health 
Bone health
Advantages of Dental Implants for Seniors
Seniors should choose implants since they require less maintenance, feel natural, and prevent bone loss caused by missing teeth. Furthermore, implants will stimulate bone growth. You'll be able to preserve your young appearance for a lot longer as long as your jaw maintains its shape.
More Comfortable Than Dentures
Nothing compares to having natural teeth. Permanent dental implants, however, are really close! You can anticipate that dental implants will fit and feel better than a removable denture because they are the only repair that is modeled like anatomical, permanent teeth.
As time passes, senior patients frequently complain of rubbing or loose dentures. Yet, since implant-supported alternatives are fixed into the bone forever, nothing will move, rub, or slip out of position. They are always present safely where you need them. You won't ever have to remove your dentures at night or be concerned about sticky denture adhesives.
For elderly people, one critical difference between implants and dentures is how comfortably they fit. In general, getting dentures to fit securely over time becomes more difficult (because of bone loss.) You can enjoy a pleasant and set "bite" without needing to alter it every few years because implants essentially stop bone loss where they are implanted and are not detachable.
Read more: What are the disadvantages of dental implants?
Better for Your Bone and Facial Profile
The facial profile of senior citizens and older patients with missing teeth will narrow or sag with time. One of the causes of this is tooth loss and how it causes the jaw bone to shrink. Yet, once a dental implant is placed, your bone naturally goes through a process known as "osseointegration" in which a new layer grows and fuses to the implant. This integration procedure fortifies your jawbone, secures the implant, and provides structural support for more pronounced facial features.
Improved Diet and Nutrition
Senior's health will immediately improve when you eat with dental implants. in particular, if you're an elderly person accustomed to eating with dentures. You won't need to restrict your diet, eat only soft foods, or take smaller-than-usual pieces of meals. With no strain on your gums, implants function similarly to natural teeth in chewing and biting.
Due to their restrictive diets, elderly patients frequently have nutritional deficits (due to missing teeth.) Thankfully, implants for seniors can be performed on people of any age. Everyone who has strong bones and is in generally good health is a contender.
Seniors find it simpler to eat and speak using All-on-4 implants due to their straightforward design. If you have a larger dental prosthesis in your mouth, you won't need to learn how to communicate, chew, or swallow. Instead, the thin shape just mimics normal teeth and follows your natural bite.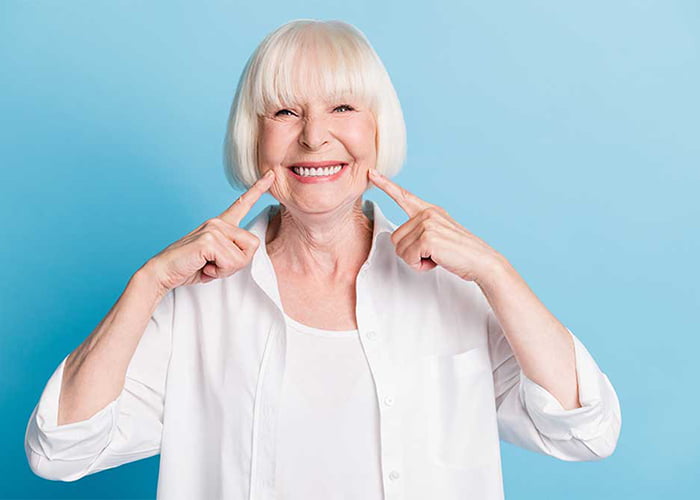 The Impact on Your Lifestyle
The majority of patients like the improved aesthetics that implant therapy provides. Although having a confident smile has its benefits, having implants will provide you more independence, which will affect every element of your lifestyle. The expense will be more than compensated for when you are once again able to pose for pictures, go out to dinner with your family, and even laugh with friends. Getting dental implants can alter your life if you're sick of having a restricted diet or experiencing pain from your dentures. The difference is astonishing once your restorations have been properly incorporated and repaired.
Predictable, Proven Results
 Most restorations can endure for the remainder of your life, whether you're replacing several teeth or just one. You shouldn't notice much of a change whether you're eating or conversing with your buddies thanks to these new "teeth," which are so successful (something quite different than dentures.) Also, because of the predictability that implants provide, our patients have less discomfort and a higher quality of life. Every implant procedure is different. Even though the process is very simple, certain people may need additional steps, including grafting. 
They're Easier to Care For
When you have dentures, you have to be worried about taking them out at night, soaking them, cleaning your gums, looking for any sore spots, etc. Dental implants require identical maintenance to normal teeth, though. All you need to do is brush and floss (or use a water flosser). Dentures are less pleasant than implants, in addition.
See more: Top benefits of dental implants
Can seniors or pensioners benefit from Dental Implants?
 Dental implants are suitable for a lot of patients, but not all patients. You might not be a suitable candidate for dental implants if you've ever had a bone infection or are currently on drugs that suppress your immune system.
Dental Implant Recovery Time for Seniors
Specialist surgeons perform a minimally invasive method while placing dental implants for seniors. At our office, sleep dentistry is also a possibility. Most patients experience the onset of moderate pressure pain and modest edema 24 to 48 hours following implant insertion. The implant site quickly settles after 48 hours and is typically trouble-free after that. We'll check on your progress during your follow-up appointment, and we'll let you know when you can put pressure on the implants while consuming meals.
Conclusion
If you're an elderly person who finds the thought of throwing away your oral adhesives and soaking solutions interesting, you might want to think about getting dental implants. If you need assistance determining whether or not this would be a good option for you, our highly qualified staff is standing by. Make an appointment for your initial consultation by calling the office nearest you, and begin the journey to your finest smile ever.