Your smile and your self-esteem can be negatively impacted by missing teeth, regardless of whether you lost a single tooth due to trauma or an entire arch of teeth due to gum disease or dental decay. A number of alternative options are available to replace these lost teeth. Dental implants are one of the most common options. Dental implants are a long-term tooth replacement option, but not everyone is a good candidate. What are the disadvantages of dental implants? What are the excuses for not purchasing them?
What are the downsides of dental implants?
Despite the fact that dental implants can provide a permanent tooth replacement alternative, not everyone is a good candidate. Small jaws, bad oral hygiene, smoking, and illnesses that interfere with bone repair are frequently disqualifying factors. Here are a few drawbacks to take into account.
Complications are possible
Dental implant surgery carries the risk of other potential complications in addition to those related to surgery itself. These dangers can include fractures of the jaw, injury to the teeth nearby, delayed bone healing, harm to the nerves, and persistent bleeding.
Dental implants take time
Dental implants are not the ideal choice if you're seeking for an instant tooth replacement solution. When considering dental implants, your dentist will assess your current bone density to see if the jawbone can support the implants. Bone grafts are frequently required to aid in the development of the additional bone. Before implant surgery, these grafts need to be performed and allowed to recover. It could take up to a year before your jaw is ready, depending on the sort of bone graft that is necessary. Before to placing the crowns, there is another recuperation period after the implants' screws have been placed. This second recovery stage may last three to eighteen months.
See more: Types of dental implants available today
Cost of dental implants
A dental implant treatment is expensive. A single implant typically costs between $1,000 and $5,000. The price for full-mouth implants might range from $12,000 to $25,000 for each jaw. Many people cannot afford this expense.
Not covered by insurance
The majority of the time, dental implants are not covered by dental insurance policies. Checking with your insurer first is usually a good idea if you're thinking about getting dental implants. Some insurance companies will pay the crown component of implants, which can help with the overall cost even if they are unlikely to cover the complete cost of implants.
Requires oral surgery
Dental implants require oral surgery, in contrast to other tooth replacement methods. There is always a chance of potential complications, such as issues with anesthetic or infection, with every surgical operation.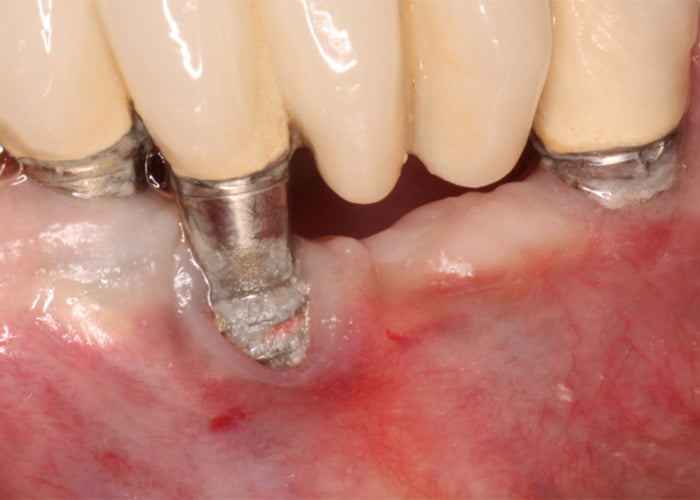 Requires multiple appointments
Dental implants require more than one treatment to complete. Particularly if you need bone grafts prior to implants, they will take several visits and operations to complete.
Restorations require replacement
Dental implants are made with lifetime-lasting posts in consideration. Dental crown restorations, on the other hand, do not and frequently need to be replaced every ten years or more. Even though your insurance might pay for these, you should think about this additional cost while choosing dental implants.
Potential implant failure
Missing teeth can often be replaced with dental implants. However not all dental implants are effective. An average of 5% to 10% of dental implants fail because your jaw cannot support and accept the implant, which results in failure.
Potential bone loss risk
Dental implants are made to assist you in halting the gradual bone loss in your jaw. Yet, losing bone mass as you age is common. Your dental implant may lose support and need to be replaced if you lose too much bone over time. A bone graft can also be required in this situation.
Find out more: Advantages of dental implants for seniors
Are dental implants right for me?
The "gold standard," or the greatest treatment option currently available for tooth loss, is generally agreed to be dental implants. However, this does not imply that every patient will benefit from them. You must first schedule a consultation with one of our doctors in order to make an informed choice. The correct implant dentist should be chosen after taking into account your existing needs, lifestyle, timeframe, and other personal aspects.
If any of the following apply to you: 
You're an adult.
Around the age of 16 for girls and 18 for boys, you're an adolescent and your face and jawline have completed growing.
Your jawbone is strong enough to support implants or can support a bone graft.
Your gums have healthy tissues.
Your general health is excellent.
Neither of you smokes.
Traditional dentures and dental bridges are just two of the restorative dentistry solutions that Dentist For Life may provide for customers. Also, patients can benefit from a variety of implant kinds to meet their unique medical requirements. Each of our therapy programs is specially created to address your unique requirements and objectives. Our medical professionals are approachable and give clear explanations to assist you to understand your treatment options.
Book a consultation for dental implants in Dentist For Life
Missing teeth can be difficult to deal with. Not only do they affect your smile, but they also affect your function and your ability to speak and chew the foods you love. At Dentist For Life, we understand how important your smile is to you. Our team of caring professionals will work with you to find the perfect missing tooth solution. To learn more about how we can help you achieve a healthy, beautiful smile, contact us online via the website or call the office today to schedule an appointment.