A life-changing way to restore missing teeth is with dental implants. Imagine having implants that perform like your natural teeth, free from the anxiety that your partial or denture might slip while you're speaking or eating. Dental implants may be more expensive than other tooth replacement options, but they are an investment in your general health and oral health because they have a success record of over 95%. The price range demanded by this gold standard of tooth replacement, however, can come as a bit of a sticker shock.
Dental implants are the best option for most people to replace damaged or missing teeth. So, how much do dental implants cost? To find out the response, read the article.
The Average Cost of Dental Implants
Costs are always provided in a wide range because no two dental implant treatments are the same. Due to the complexity of implant operations and the number of pieces involved in each surgery, each part has a varied price.
Your new tooth or teeth's final cost will depend on several factors, including:
thorough dental examination using 3D imaging
If necessary, extraction of problematic teeth
The process of placing the dental implant (s)
Placing the abutment hardware
The process of making a dental crown
The position of the crown
Overall, implants are an investment for a lifetime, and their cost reflects this. It states that the average cost of an implanted tooth, from the beginning to the end, is between $3,000 and $4,500, with a mouthful of implants costing between $60,000 and $90,000. The fact that no two treatments are the same is the fundamental cause of the lack of a set price.
Read more: Dental implant full mouth cost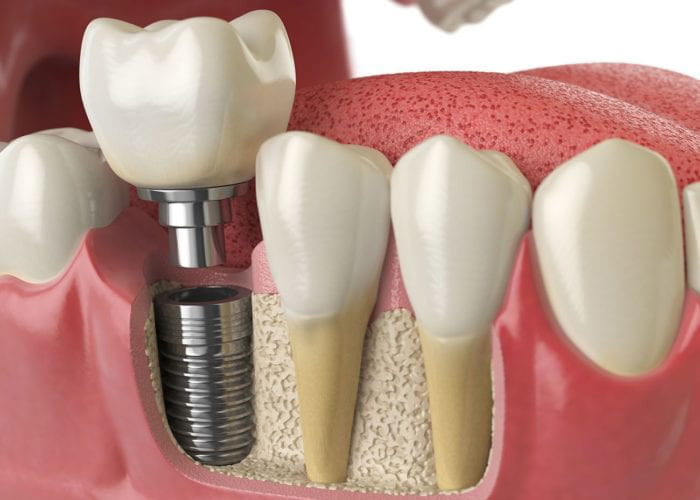 Single Tooth Implant Cost
Because an implant is a metal or ceramic screw that is inserted into the jawbone, nobody purchases a single implant. You also require the crown itself, as well as the abutment (the component that connects the crown to the implant). These things are all priced differently.
For many patients, a sinus lift or a bone graft will also be necessary to restore the jawbone's health and stability so the implant can be maintained. That also raises the price.
The overall cost of an implant, abutment, crown, and other related treatments ranges from $3,100 to $5,800, according to the American Dental Association's Health Policy Institute cost survey.
Multiple Tooth Implant Cost
You have more implant alternatives and therefore more price possibilities if you're replacing multiple teeth that are close to one another. For instance, if there is a gap between three or four nearby teeth, it may be possible to employ a bridge supported by only two implants, bringing down the whole cost to between $6,000 and $10,000. Two implants are less expensive than four since they can support three or four adjacent teeth.
Full Mouth Implant Cost
There is a wide variety of pricing for full-mouth tooth replacement because there are several methods. The option that costs the most is replacing each tooth separately. The dentist can keep part of the natural teeth with this approach if they are in good enough condition and it is the most comfortable. The normal implant cost is from $60,000 to $90,000 for this option.
Implant-supported dentures are a less expensive option that replaces both the natural upper and lower arches of teeth (after any remaining teeth are removed) with two full arches of fake teeth. Four to six implants each in the upper and lower jaw support the arch. This choice, often referred to by the registered term All-on-4, typically costs between $24,000 and $50,000 for a full set.
Additional Costs of Dental Implants
Make sure you and your dentist discuss the charges and that you are aware of them. The majority of dentists will disclose the whole price upfront. Be sure you factor in both sets of costs if you're seeing multiple experts, such as a dentist and an oral surgeon.
The only extra costs you might incur are for over-the-counter or prescription medications, including analgesics after some treatments or antibiotics beforehand or afterward if the dentist deems it necessary.
You will pay the fees of dental implantation over a period of many months because it is a time-consuming procedure. Moreover, 80% of dentists provide payment plans if necessary, most frequently through CareCredit, LLC, the biggest provider of dental financing.
Does Insurance Cover Dental Implants?
Implants have traditionally been regarded as "elective" by dental insurers, which means that costs related to them haven't traditionally been covered. Dental insurance may pay for some implant-related costs, or at the very least reduce the overall cost by paying for certain procedures. The insurer is more likely to pay if the implant is required to preserve or restore the health of your teeth and gums. The implant won't be covered if it is merely cosmetic.
If you have dental insurance, you can now anticipate receiving a yearly reimbursement of roughly $1,500 for each implant. You might be eligible to receive benefits for both calendar years if your implant work spans two of them. Dental implants are covered by flexible spending accounts (FSAs), health reimbursement accounts (HRAs), and health savings accounts (HSAs). Similar to one another, these accounts compensate or reimburse incurred costs, including the discrepancy between what your insurance will cover and what you must pay out-of-pocket. Before starting the procedures, make sure you've spoken with your insurance administrator or provider to completely understand the fees you'll be accountable for.
Why are implants so expensive?
The high cost is due to both the length and complexity of the implant insertion process as well as the cost of the implant materials. Obtaining a dental implant requires several months from beginning to end. Before implant placement, prior exams are required. Costlier diagnostics like x-rays and potentially a CT scan are part of the certification process. Your eligibility will also depend on the condition of your jawbone and whether you require a bone graft. Depending on your unique oral condition, dental implants can be implanted with varying degrees of ease. The cost of implants is also affected by the material.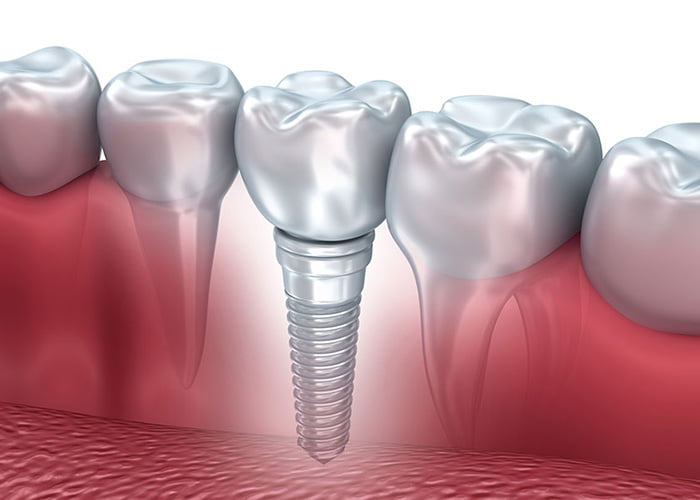 Are dental implants worth it?
Even though they are expensive, dental implants can be a worthwhile choice. Chewing could be challenging for someone who has missing teeth. To fill the gap, other teeth may migrate or shift, which could lead to a misaligned bite. Talking and chewing problems might be resolved by getting implants in place of any dentures or bridges you may have. Moreover, implants last longer than complete or partial dentures.
See more: How Long Does a Dental Implant Procedure Take?
Pros of dental implants
Many people believe implants to be extremely valuable due to some of the following advantages:
Restores the appearance and function of a lost tooth
Maintains the gums' and jawbone's health.
Prevents the movement of teeth nearby
Cons of dental implants
However, there are drawbacks to consider:
During implantation, it could hurt neighboring teeth, gums, sinuses, jawbone, or nerves.
A neighboring bone or dental infection could lead to failure.
Carries a chance of alignment issues or color mismatch
Ways to Save on Dental Implants Procedure
Even if you use dental insurance, the final bill could exceed your expectations. There are a few considerations that can lower your expenditures if you're thinking about getting one or more implants.
Do Your Research
One of the best things you can do to make sure you aren't overpaying for dental care is to research the procedure you are considering. Understanding the steps necessary to get dental implants will help you ask more informed questions and get better pricing.
Avoid Additional Treatments or Procedures
Sometimes, dentists will recommend procedures that aren't truly necessary. This is why it's so important to get a second opinion. It's also why you should get a quote from an implant specialist, who is more likely to offer affordable dental implants.
Dentists who are experts when it comes to dental implants know what procedures are really necessary. A good dentist will never push you to do more than is necessary and will work diligently to lower your out-of-pocket costs.
Dental Office Payment Plan
If you need dental implants but just can't afford them despite going through these steps, don't give up hope. Ask your dental implant dentist about flexible payment options.
Many dentists offer payment plans that allow you to get dental implants right away and pay over time. You also may be able to negotiate a competitive price or even qualify for a layaway plan. If you don't have insurance, you might look into self-financing options.
Connect with Dentistforlife for your dental implant
Dental implants are durable and have a natural appearance. The average cost per tooth is $4,800, however, prices can vary greatly. Dentistforlife promises to offer you the ideal implant at a reasonable price, and you can benefit from our top-notch care. To learn more about dental implants, pick up the phone and give us a call right away.